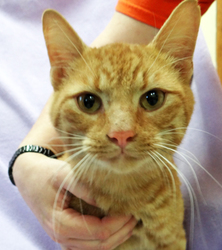 Waldo
"Hi!  I'm Waldo!  How are you?  Do you want to be my friend? Can I come out and say hi?  Shall I rub your hand?  Do you want to pet me?  Can we play?"
This is how we imagine Waldo's internal conversation is going. 
He's fast, funny, furry and friendly and has quickly won our hearts.  He's a lot of fun to be around, and he's very smart.  He's even been doing some clicker training! 
Waldo gets along well with other cats, but he loves to eat their food, so you have to keep an eye on the sneaky boy.