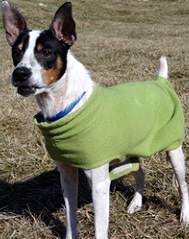 Eddie
Stunning in his little green coat, Eddie likes to be the center of attention.  He's a bit of an attention hound and will "work a room" until he finds someone to pet him. 
In addition to enjoying people company, Eddie likes to play with other dogs. 
Eddie's hoping to find a home where he will be pampered and loved. 
He gets nervous when he's alone, so he'd do best in a home where he has company for most of the day.  But who wouldn't love to spend their time with this little guy?!