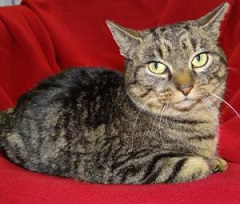 Sadie Mae – Pretty little Sadie Mae is an adorable girl whose petite size, quiet but friendly demeanor, and big green eyes make you think of the girl next door in all the novels.  The one who hides behind her hair and doesn't know how beautiful she really is.
Sadie Mae has spent most of her life outdoors, but she's adjusting well to an indoor life and is enjoying pets and scratches.  She even likes being held for a while. 
Sadie Mae's favorite thing is to lie in her cat bed and watch all of the people and the other cats and the busy life at the shelter.  She's shy, but relaxed, as though she knows she's safe.
Sadie Mae would love a quiet home with a gentle family, where she can sit in the window and watch the world from the safety and warmth of her new life.