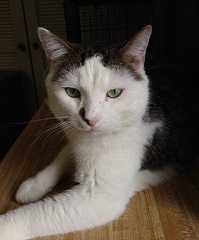 Schooner is a ruggedly handsome cat who has a wonderful sense of play.  He particularly enjoys a rough and tumble session with the other big boys. He and his former buddy, Jinx, used to get into the fuzzy cat house and roll around and around until they were exhausted.

Like many big, strong cats, Schooner has a soft side, too.  Once he's had his fun, he likes to follow that up with plenty of attention, generally in the form of chin scratches, kisses on the head, and maybe a little lap time when he's sleepy.

Schooner would do great in a home with another playful cat for company.  He's the perfect mix of self-reliant and loving.