Clarabell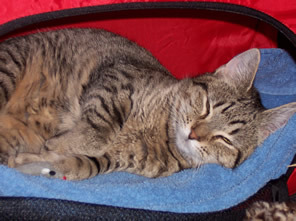 On December 30, 2009, I visited Jody who runs Close To Home Pets (which she does out of the kindness of her heart), where she fosters many of your cats in her home until they are adopted.  I had a tough time picking out a cat, when Jody brought to my attention, there was a kitten that had already picked me!  
Her name was Clarabell, but we have changed her name to "Cupcake" because she is so incredibly sweet!  From the moment she entered our house, we knew she was a perfect fit.  Our home was complete.  Not only did we feel this, but as soon as her paws hit the floor, she walked around as if she had always lived here and had always know us.  She began to purr, and I don't believe she has stopped since.  
From her first night here, she has claimed our beds as hers.  She follows us around talking to us, and constantly wants to be held and pet.  She eats like a little pig, and is growing like a weed.  
We wanted to thank your shelter and Jody at "Close To Home Pets" for our "little blessing" named Cupcake.