From "Sick Animals" to Happy Homes:
Chloe & Josh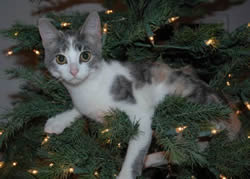 At three months of age, Chloe went to the vet to be spayed.  During that time, the vet noticed that she and one of her siblings had something called "Pectus Excavatum" where the sternum grows inward instead of outward and in severe cases causes the lungs and heart to be compressed. 
Shortly after her surgery, Chloe and her sister developed pneumonia.  Her sister died.  Chloe was sent for x-rays and the vet told us that she would not live very long and she should be euthanized.   I immediately took her home to live with me, and later took her to another vet who told me that she would be just fine. 
Almost two years later, she is doing great and is the boss of my eleven other cats.  She is extremely intelligent and other than her oddly shaped rib cage, there's no indication that anything is wrong with her.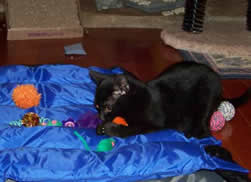 Josh was adopted from our shelter and later diagnosed with something called FIP.  The adopters returned him to us, and Heather took him home.  FIP is a death sentence.  Cats / kittens who have it typically do not live very long.  The vet recommended euthanasia. Heather took Josh to another vet (our favorite!!) and the other vet thinks that Josh is going to be just fine and that he does not have FIP. 
It really is what our shelter is all about – not giving up and never losing hope.  We couldn't do it without caring people like you!