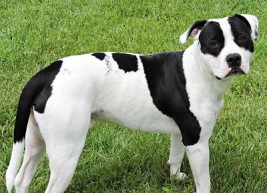 Zorro – He's sure that one day, he's going to be a frisbee champion. 
No matter how excited he is, when it's time to go for a walk, Zorro sits patiently ready to be leashed.  Once he's hooked up, he might pull on the leash a little on the way out to play, because he's so happy about looking for his frisbee. 
Once you see him, you'll understand his excitement. Watch him chase a frisbee, pick it out of the air, and toss it back up!  It's a one dog show!  How many dogs do you know that can self entertain? 
After a few more games, Zorro is ready for a pat on the head and a little ear rub, while you tell him how gorgeous he is.  His kisses let you know he wholeheartedly agrees!