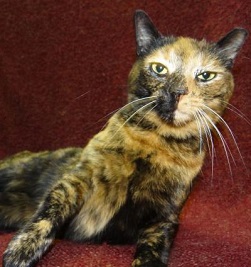 Tori – What a delight. Tori is a sweet, gentle little girl who just wants to be your friend. Whenever anyone is near her kitty condo, she quietly meows and reaches out a paw, asking very politely for attention.
Tori knows how beautiful she is. She's not above rolling on her back and batting her beautiful eyes at you, while she stretches out to show you her graceful body. Of course, you'll immediately want to reach out to stroke her soft fur, which is exactly what she wants.  
Tori rewards all of this with soft touches, chin rubs and plenty of purring. She's very generous that way.