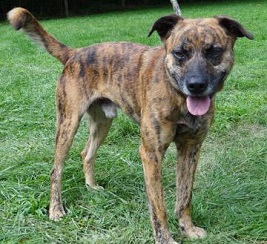 Bo – What a joy! Bo is a well-behaved, people-oriented dog who's at his best when he's with YOU.
As visitors walk through the kennel, Bo sits quietly waiting for his turn to be noticed. No barking and jumping. Sometimes that means that people don't notice him, because he's much too polite to yell in their face.
Bo's so well-mannered, walking on his leash without pulling or rushing, happily staying by your side. He'll go at your pace, whatever that is.
Bo enjoys spending time with other dogs, but he's especially keen on being with his people. He'd be happy in a home with other dogs, or happy in a home as an only dog.
If you want an easy-going, loveable boy to share your life, Bo may be the best companion for you.