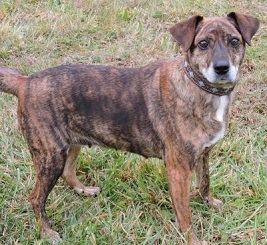 Gypsy – Her faces tells it all…so sweet and a little bit uncertain. Gypsy is a petite girl, with a gentle soul and a big heart. Although the new world at the shelter made her a little nervous at first, she's loved the attention and affection she's getting from the people. This is a girl who wants to be loved.
When you walk by Gypsy's kennel, her face lights up, hoping that you've come to spend your time with her. She's happy with some play time, or even if you just sit with her and let her put her head in your lap.
As she's gotten more comfortable, it's been wonderful watching Gypsy's confidence blossom. She wiggles her whole behind in happiness.
Gypsy's going to be a lovely addition to someones family.