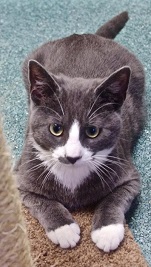 Augustus – "Boundless energy and affection" is the best way to describe Augustus. He's still a young boy, and he plans to take advantage of that for as long as he can. But he wants you to join in!
Augustus loves people, and he wants to entertain you and remind you how to have fun. He's endlessly curious and will explore every nook and cranny. Once he's verified that he knows where things are, he's happy to settle in with you for a good cuddle and a nap.
The he's off again!
Augustus would do well with a family that has time to share their atttention with him. He'd even love to have another cat to play with.
If you're looking for a cat with real personality, Augustus is your boy.