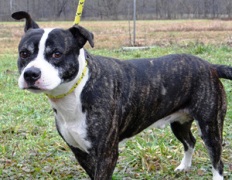 Spirit--gentle and laid-back–that is the first thing you notice about this beautiful brindle and white boy.
His former owner lost his home. He & Spirit were living out of his truck until it became apparent that the best thing to do for Spirit would be to let BCHS help re-home him & find a proper situation.
Spirit is house-trained and is doing well with leash walking.  He's found a friend in Ginger, a Plott Hound and they love to hang out together in the play yard.
Spirit really enjoys being with people and would prefer to spend his days lounging around the house with his family.
Watch his video and you'll see how amazing Spirit is!