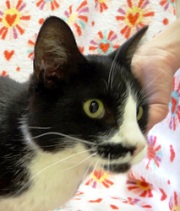 Scout has become quite the social, playful kitty since joining us in April. 
At first he was known as Mr. Shy, but now he's a big confident boy who loves to cat-around the office. 
He buddies around with Simon and Gideon, but he's more than ready to go home with his new family.