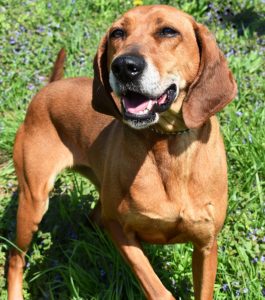 Patience pays off with Cinnamon. Not a fan of being confined in the shelter, when she does get out she spends lots of time exploring an area. But once she's done checking out the new environment she'll start to focus on the people around her.
It's then that you will discover the sweet soul that she is. She will lean in for pets, is generous with kisses, and will gaze into your eyes with her soft brown eyes and she seems to ask "Why am I here? Won't you take me home?"
Cinnamon is a pretty athletic girl and has fun chasing balls. A family that enjoys the outdoors would be perfect for Cinnamon.
DONATE to help Bo find his home