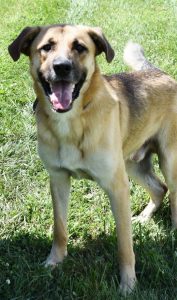 This adorable, loving face is making his second appearance as our Dog of the Week because he just didn't find the perfect fit last week.
Since he is just a teenage pup, he has lots of energy and loves to chase tennis balls and playing fetch (sometimes with himself) with his frisbee. But, he isn't all play. Once Hank has had a chance to run off some energy his favorite activity is finding a friendly person to lean against and enjoy some pets. Those soft brown eyes will melt your heart as he shares his love with you.
Like any teenager, Hank Jr has some growing up still to do, especially with learning better manners. A little time invested in helping Hank Jr with positive training will go a long way. He is so eager to please! Hank Jr is a diamond in the rough. A family willing to help him shine, will be rewarded with one awesome dog!
Approximate Age: 3 years
Approximate Weight: 70 pounds