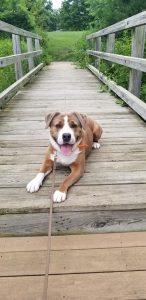 This is Merlin. He's in foster care at BloomingPaws in Bloomington, Indiana. Merlin is a fantastic boy who went to BloomingPaws for training and they love him so much they asked to keep him there until he's adopted!
According to them, he loves chasing after a ball in the yard, training for treats, and getting neck scratches, as well as going for walks around the neighborhood and parks, eating pepperoni (but not bananas, it's a texture thing), and napping on laps. Training is helping him learn to meet strangers with more confidence. He's doing great, as long as he's with someone he trusts.
Merlin just needs a home with patient and understanding parents who will allow him the opportunity to be their good boy. Contact Ben or Heather at 812-330-7297(PAWS) if you'd like to meet Merlin.