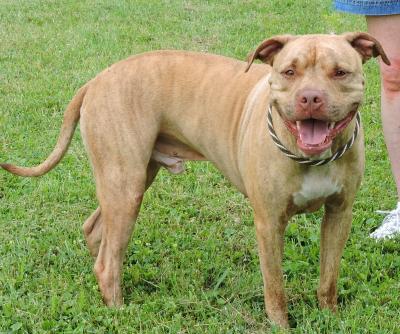 Smokey Joe – He's is a bit quiet in his kennel which may give the impression that he's a bashful boy. That changes in a heartbeat once you leash him up for playtime. Joe shows his light-hearted side when he's out zooming around with a friend or playing keep-away with the rope toy. When he's worn out, he plops down on the grass belly up, wiggling for a belly rub, or waiting for you to massage his head. Ahhhhhhh, that feels good! His smile is as big as can be.
Smokey Joe has had some bad luck. He came to us in 2016 when his owner became homeless and could no longer care for him. Since that time, he has been adopted and returned four times, never through any fault of his own.
This beautiful boy, with the biggest happy smile, just wants a home where he can lay his head down and finally relax.