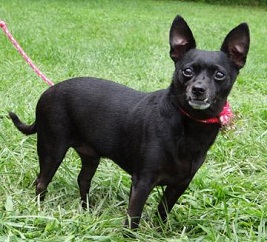 Spike – The first thing you notice is the under-bite.  How could you not?  It's pretty darn cute.  Then, you begin to notice that Spike is a little shy.
Spike's lifetime owner recently passed away and Spike is trying to figure out how he ended up homeless.  Shelter life really doesn't suit him.  He is used to a fluffy bed and toys to call his own.  Just a tiny guy, Spike is a little spooked by all the people and  activity at the shelter.
The best thing is, though, once you get down to his level and sit with him, Spike is very sweet and quiet.  He just needs to know that he'll be ok and that life will be good again.   We know he will thrive with a quiet and patient family.