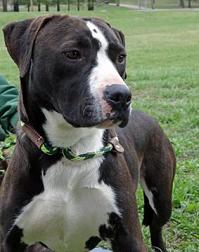 Alfred wasn't quite sure what to make of all the nice people he met when he came to the shelter. 
A bit on the timid side at first, he is getting braver and braver every day.  We are quite proud of the progress he is making.
Alfred is a gentle dog who likes to hide behind your legs if he's not sure of a new situation.  With a bit of TLC, he's blossoming into a confident and happy boy. 
He is sure to be a loyal best friend to a quiet family who will show him how wonderful life can be.