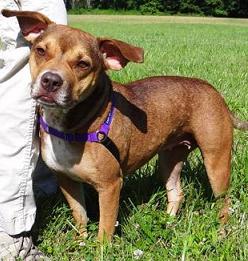 Butterscotch – oh-so sweet, just like the candy she is named after.
Butterscotch has never met a stranger and loves to give kisses and hugs. Not only does she have a great temperament, but she's got the most adorable face! When she's happy, Butterscotch doesn't just wag her tail, she wags everything, from head to tail to toes. And Butterscotch always seems happy!
Butterscotch prefers to be an only dog so that she can lavish love on her people all by herself.  Looks and personality…who could ask for more?
Come visit the shelter and meet Butterscotch. Her hugs and kisses will melt your heart!