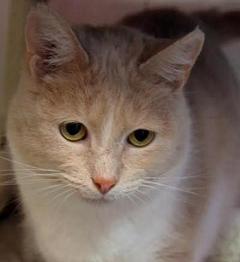 Sweet Baby – If ever a cat lived up to his name, it's Sweet Baby.
He's had the best of luck, and the worst of luck. Sweet Baby has had two homes in his short life, but both families had difficult circumstances that forced them to give him up.
Despite the fact that he's back at the shelter again, Sweet Baby has remained full of affection for everyone. For him, it's all about the people. He gets along great with the other cats, but he's far more interested in what you're doing. He's not pushy…just a gentle head bump to let you know he's there, then he'll lie down and wait for your attention. As long as he has you nearby, he's happy.
Sweet Baby is looking for a home that can handle all of the love he has to give. Is that your home?