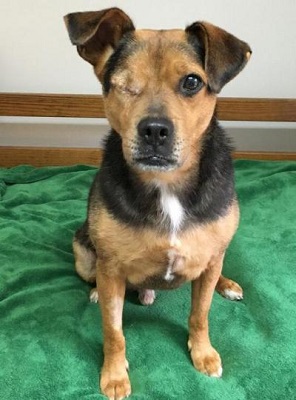 Dobby – He's has faced some tough challenges since he arrived at the shelter. In addition to having glaucoma, which was causing painful pressure on his eye requiring it to be removed, Dobby also had heartworm. It's a lot for a little 5 year-old dog to endure but, amazingly, he didn't let that keep his happy and loving personality from shining through.
Now, with his heartworm treatment successfully over, and his recovery from eye surgery complete, Dobby is finally ready to go on to a home of his own.
Dobby loves people. He was always happy to see everyone at the shelter, ready to climb onto their lap for a cuddle. If you have the time, he'll lean against you for plenty of scratches and hugs and may even fall asleep in the process. He's not clingy, though. If you're not in the mood, he's happy to sit nearby just to keep you company.
Dobby also loves to be outside for walks. He's got wonderful leash manners, and can still jump over logs and duck under bushes with ease. He has a great time chasing balls, but isn't as concerned about bringing back…too many other things to explore.
Dobby will be in foster care until there's room for him at the shelter, so if you'd like to meet him, just call ahead to 812-988-7362 to make an appointment.