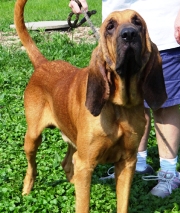 If the television show Hee Haw was still being filmed, our Beauregard would be a shoe-in for the bloodhound part.
 Beau is a perfect specimen, long pendulous ears, sad, droopy eyes and a very goofy personality. 
It is hilarious to watch him play with his buddy Penny, a small border collie mix.  Penny runs twice as fast as Beau, but he just lopes along trying to catch her.   
Gentle and affectionate Beau will make a great family pet as long as he's given lots of opportunities to exercise.