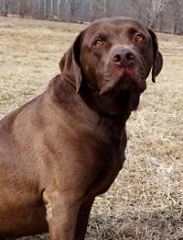 Links – Big, strong and independent, Links enjoys spending time exploring the play yard.  He'll pick up a tennis ball, toss it in the air, pounce on it and then spend a few minutes chewing on it before he's off to investigate something else. 
Links enjoys being petted and will lay calmly at your feet while someone is paying attention to him, but he is also content to be on his own and is not demanding of attention.  A relationship where you do your thing, he does his thing and then you spend sometime together would be perfect for Links. 
Links keeps a very clean kennel and will make an excellent roommate for a new family.