At a time when the term "save them all" is quickly becoming reality, you can give a chance to long-stay shelter pets like those below by providing the time and tools they need to find their perfect home, no matter how long it takes.
Your donation can be DOUBLED
This #GivingTuesday, you have an opportunity to help even more long-stay pets.  Donate today to double your gift and help twice as many animals. For 24 hours only, the Werling Charitable Foundation will be matching all donations dollar for dollar, up to $10,000.

Goose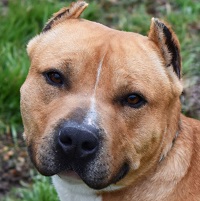 Goose spent over five months in the shelter. Between his rugged looks and brute strength, he was pretty intimidating to potential adopters. He would get so excited playing fetch that it often ended in a body slam with both you and him on the ground.  He also disliked other dogs.
When Goose sat quietly in his kennel, you could almost see his soft, brown eyes pleading for someone to give him a chance.  Staff used his love of treats and enjoyment of people to teach him how to better control his energy and strength.
Because Goose would need a home that could handle his strength and dislike of other dogs, special social media ads, videos, and other promotions were used to introduce Goose to a much wider audience of potential adopters. That's how his new mom, who understood his needs, found him.
Your donation helps provide a louder voice to so that long-stay pets can reach just the right adopter.

Cupcake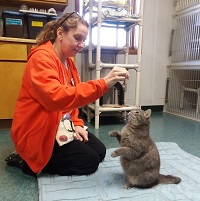 Adopted. Returned. Adopted. Returned. Adopted. Returned. Adopted. Returned. This was Cupcake's life for over a year.
Cupcake enjoyed affection, but only when she wanted it. She quickly and clearly let everyone know when she was over it (swat!). Those quick mood changes made it difficult for adopters to get to know her.
Cupcake was one of the first cats to receive training through the Jackson Galaxy Cat Pawsitive Program. The simple tricks she learned provided a way for Cupcake to better enjoy interaction with prospective adopters. She is finally in a home where she can be who she wants to be and her new mom says she's "a joy."
Your donation helps provide further training and supplies for staff and volunteers so that other "sassy" cats like Cupcake can learn better social skills.

Kody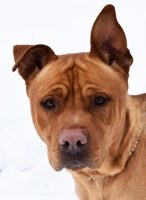 What do you get when you cross a windup toy that never stops with a jumping bean? You get Kody! At just over 2 years old, Kody was a headstrong teenager who had lots of energy and very few manners. As a result, Kody was with us for almost six months, a quarter of his life!
Kody's high energy and poor manners made him difficult to live with, but he needed more intensive training than the shelter could provide. Through a partnership with a local training facility, Kody spent several weeks at a boarding school where he learned to control his impulses, to focus his energy and to enjoy using his brain to get things he wanted. He returned to the shelter with all the skills he needed to be a good companion. He's even able to accompany his new mom to work.
Your donation will help other dogs like Kody get the specialized training they need to become valuable members of their family.

Don't forget…for every dollar you give, the shelter pets can receive DOUBLE that amount.
Goose, Cupcake and Kody each had their unique challenges and stayed at the shelter longer than normal. But, in the end they each found their forever home because of your support.
There are still so many who need your help. Next week marks two years that Moby has been waiting for his special forever home.  And Patches has been waiting over seven months for a family that can provide this ailing senior cat with a retirement home.
Your #GivingTuesday donation will help Moby, Patches and all of other long-stay pets get whatever they need to address their individual challenges and get them adopted. No matter how long it takes.