Milo finds true happiness after Brown County Humane refuses to give up on him
Milo is also a special story and another example of why our adoption rate is so high. Again, we did not give up on Milo, even though it seemed that Milo had given up on life.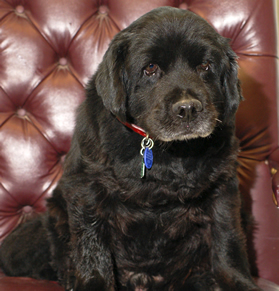 Milo is a senior dog, probably cocker spaniel mixed with sharpei. A woman brought him in to our shelter a few years ago and told us that Milo was aggressive to her kids. She had him living out on a chain and said she found him several months ago. His coat was covered with mats and his ears were so badly infected he wouldn't even lift his head. Probably the saddest dog I have ever seen come in. Milo was food aggressive, he did not like people much, aggressive towards other dogs and did not like cats. He was also pretty old. He smelled so bad when he came in, we put him in a room by himself with the door closed. We didn't know what to do with him.
The shelter was busy that day, so he sat in the room by himself and didn't make a sound. He sat there with his head down, staring at the floor. At the end of the day, I looked in on him and made the decision to clean him up by shaving off all of his fur. He hated it. He bit at the clippers, especially when I went anywhere near his ears or feet. Several hours later, Milo was put in the tub and scrubbed down from head to foot.
The next day, it was apparent that Milo felt much better. We didn't even have an open kennel to put him in, so during the day we put him outside in a fenced area next to the shelter. We left the door open so he could come and go, but he did not want to come inside. He refused to eat inside. On breaks, staff would go outside and hand feed him kibble to break him of his food aggressive behavior.
Slowly he began to trust us and after a few weeks, he started to come inside the building on his own. We also realized that Milo was almost completely deaf, probably as a result of a lifetime of untreated eat infections. This is what probably caused most of his aggressive behavior. He was also probably hit by a car at some point in his life because he sometimes limps on one of his back legs, and his tail has been broken and is bent off to one side.
As time passed, Milo got over his food aggressiveness, his dog aggressive, his cat problems, his issues with kids. He was neutered and we thought ready to go home. He was at our shelter for many months before finally being adopted, but right before he was to go home, a large tumor was found on his shoulder. The tumor was removed, and weeks passed before Milo was healed enough to go home. In his new home, Milo did well with people but did not get along with a newly adopted Jack Russell terrier.
Milo was not returned to the shelter by the people who adopted him, but instead given to a family member whose abusive boyfriend punched and kicked Milo and shot him with a BB gun. Milo finally was taken away from those people and once again returned to us. Many months passed again, until Amy, one of the staff at BCHS, adopted Milo on his 1 year anniversary of arriving at BCHS. He now lives on a farm with many dogs, cats and children and loves every minute of it! He still comes in to visit us every once in awhile. He's very special and he knows it!