Our Cat of the Week is O.C.
Hello everyone, my name is O.C. I'm a sweet and gentle Torbie (Tabby/Tortie mix) who is looking for a best friend.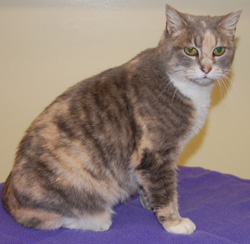 I enjoy people-watching, but I'm not overly crazy about toys. I find sitting by the window more exciting.
I am an older girl, around 9 years old, but that's a good thing. I'm not constantly running around at top speed or demanding attention. Instead of seeking adventure and excitement, I wait for it to come to me!
I'd love a quieter home with adults or older kids because young kids move fast and I'm scared they might step on my tail.
More than anything, I'd like to have a forever home, with a cozy bed for my snooze-time.
That isn't too much to ask for, is it? I have a lot of years left. Want to spend them together?
Please watch my video and I'll give you a tour of the cat room.