Our Dog of the Week is Achilles!!
Hi, I am Achilles. I am a German Shepherd who loves activity. If you are looking for a companion for long walks, jogs, or active games, I am your guy!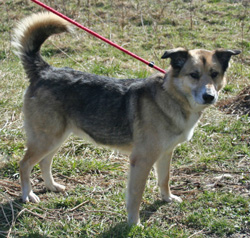 I would do best in a home with dogs to keep me company or a mom or dad who is home a lot. I really don't like being alone. I like people too much!
I also enjoy being outdoors where all the action is! I am a happy, energetic guy who would love to find a home with room to roam.
I walk on the leash okay, but I do pull sometimes and would need some training until I know the right way to walk with you. But I'm a fast learner, so that shouldn't take long at all.
Have you heard that German Shepherds make great family pets? I'm sure proof of that!
Swing by the shelter. We can go for a walk and have a chat about our future together. I know we will be best friends in no-time.  
Check out my video and you will see what an amazing boy I am!