Our Cat of the Week is Monkey!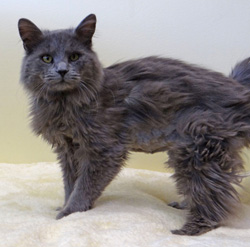 My name is Monkey and I got my name because I like to monkey around and play all the time. I think my name is cute, don't you?
I am an extremely sweet guy. I love snuggles and kisses, but I also love playtime. I can play for hours with some of my toys. You never have to worry about keeping me busy because I find my own entertainment.
I am about a year old, so I am still a young lad.
I have medium-length hair, so I'd need to be brushed every week, but I really enjoy it and could let you do it every day if you wish.
Please come spend time with me! I think you will find that we are purr-fect for each other!
Want to know what my favorite toy is? Watch my video to find out!