Our Dog of the Week is Diesel!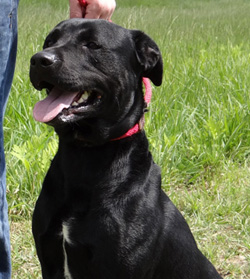 Diesel is one of those wonderful boys who you've been waiting to meet.
He is playful and full of energy. And he loves to be by your side. He loves his kong toy, and will play for hours.
He is very happy to be with his handler in the field retrieving balls. He excels at this and is very pleased with himself when he completes the task of bring the ball all the way back to the handler.
He knows some basic commands and walks fairly well on a leash. He's very smart and wants to please, so he will learn quickly.
He is very vocal and tries to express excitement when it is time to get out of his kennel to go and play.
To top it all off…he is house-broken!! You couldn't ask for a better dog than Diesel!
Watch his video and you'll see how much fun this boy has with his toy. It's like Christmas every day for him because he is so happy.