Our Cat of the Week is Danny!
I'm Just a Big Ol' Cuddler in Disguise!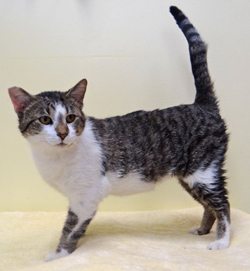 My name is Danny and I am a handsome brown tabby cat with white markings that give me a striking look!
I am quite the cuddler. I have never had someone to love me before and I had no idea hugs could be so sweet!. I used to live outside, so I had no idea that people wanted to hug and kiss me. Now every chance I get I like climbing into a lap for a quick pet or snuggle.
I would make the perfect companion for reading a book or watching a movie.
I am positive for FIV (feline AIDS), but I can live with other cats, dogs etc.
I don't get any special treatment. I just need to live inside to keep my immune system strong. Most kitties with FIV live well into their teens! Please ask the staff about kitties with FIV.
I am a truly wonderful guy and have lots of love and affection to offer!
Please watch my video and you will see me snuggling and then discovering a new laser toy. I had no idea they would be so much fun to chase!