Our Cat of the Week is Tom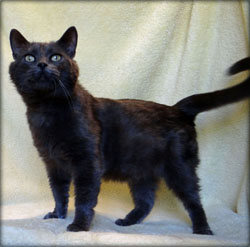 Big Boy…Bigger Heart.
Tom is a 3-year-old solid gray cat with the brightest, most gorgeous green eyes you have ever seen. When he looks at you, you feel as if you're the only one in the room.
He loves everyone he meets—other cats and humans. He will wrap himself around your legs, twirling between them.
Even though he's large, he's a big baby who loves cuddles and kisses. He would love to be a lap cat. 
He'd make a great companion to come home to every day. He'll make you smile and make you laugh. You couldn't ask for a better forever friend.
Watch Tom in his video as he seeks attention from all the ladies!