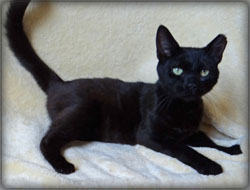 Our Cat of the Week is Victor
Prince Charming–that's me!
My name is Victor and I have a great affection for people!
Snuggling is one of my favorite sports! I am an active guy who likes to be on the move, but give me a lap and I'll settle right in!
I would make the purrfect companion cat!
And I'm totally handsome to boot!
My left ear has been ear-tipped because originally I was living outside as a feral cat (an ear-tip lets people, like Animal Control, know that I have already been neutered and vaccinated and live in a outside colony with other cats), but I decided that I love people and soft beds too much and I now want to be an inside kitty with a loving family. 
Check out my video as I love on one of our volunteers!