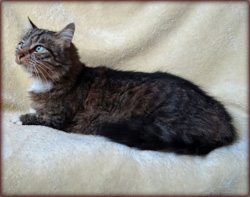 Our Cat of the Week is Snuggles!!
You don't get a name like Snuggles without having a totally lovable personality!
I am a gentle, affectionate guy who loves nothing better than a great cuddle!
I'm a marvelous older gentleman. Being a senior cat I enjoy being in charge of what other shelter cats do and believes I'm always right. Everyone thinks it's quite adorable.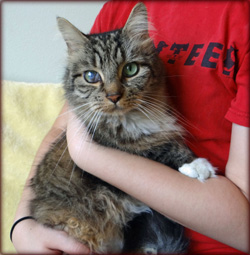 I am content to cat nap in a sunny spot or watch birds and butterflies when I'm not snuggling in your lap. My age may say "senior" but you could never tell by looking! I have lots of love and affection to share!
My one eye looks a little funky but I've been to the vet. The doc said I must have had a deep wound years ago and my eye healed slightly crooked. I can still see out of it just fine. Ideally I should be an inside cat because the way my eye healed, it doesn't contract properly in bright light, like sunshine. But hey, isn't it even better because we'll be able to hang out together more often!
Check out my video and you will see how snuggly I am!…