Our Cat of the Week is Bobby!!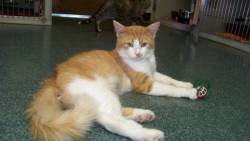 Big lover-boy Bobby here!
I am a gentle, loving guy whose favorite spot is in someone's lap!
I have a calm, quiet nature and am a no-fuss kind of guy. I'm content to snuggle in a soft bed or in your arms!
And I'm quite handsome in my orange and white coat of fur.
If you are looking for a sweet and lovable companion to share your days, you really should ask for me–Bobby!
 And check out my video and see me in action!