Our Cat…Kitten…of the Week is Robbie!!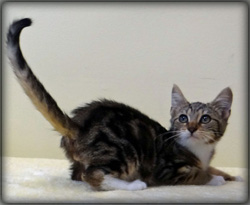 Are you looking for an adorable buddy for silly kitten games and snuggly cat naps? You've just got to meet me! Robbie here!
I am a real cutie who will steal your heart at our first meeting! I love to jump and play and will entertain you with my antics. Then when I snuggle in your arms for my cat nap, my purring will put us both to sleep!
I'm so much fun and cute as a button! Please come see for yourself! Ask for Robbie!