Our Cat of the Week is Spock!!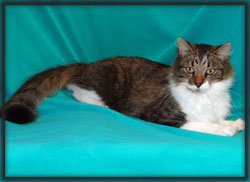 Greetings, Earthling! Spock here! If you are looking for a cat who is "out of this world," look no further!
I am full of fun and ready for action! My antics will thrill and delight you as you never know what I'll be up to next!
I adore chasing feather toys, climbing in high places, and playing with other cats.
I have an incredibly sweet personality and will certainly rub along your leg to remind you that I'm there and need a cuddle!