Our Cat of the Week is Aggie!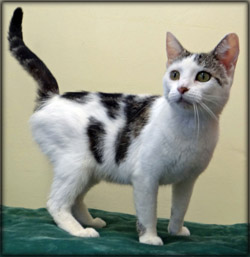 Adorable Aggie is a sweet young cat who likes anything to do with fun: fuzzy mice, feather sticks, jingle balls. She will play for hours.
She gets along great with dogs, but is not crazy about other cats, preferring to have all of your time to herself!
When you pick her up or just when you start petting her by your feet a loud rumbling starts…Aggie's purr. It's to show you how much she loves you. You can't beat that for love and devotion!
Check out her video to see her in action.