Our Cat of the Week is Woodina!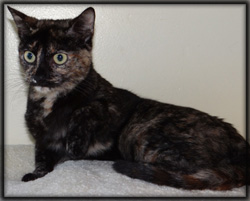 A little bit shy but a lot bit cute!
My name is Woodina and I may seem a little shy when we first meet, but I warm up quickly to kind words and gentle hands. I'm a Torti.
I really do enjoy a cuddle! I am also full of curiosity and enjoy chasing cat toys.
I love my best friend, Anna. We've grown up together. We play together for hours and hours. We wrestle and then snuggle down for an afternoon nap. We're closer than sisters! My wish would be that we could be adopted and stay together forever and ever. This is a photo of pretty Anna!