Our Cat of the Week is Buttons!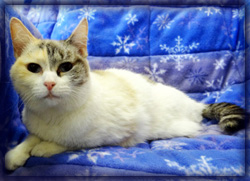 I'm Buttons, a quiet and oh-so-sweet little lady.
I'm a Siamese/Tabby mix.
I will make the best companion because I love everyone I meet. I like sleeping in the sunshine too. It keeps me nice and toasty.
I'm a really good lap cat too. I can sit by you when you read or when you watch TV.
I think you and I will be the best of friends, so hurry down to the shelter and meet me. I'll be waiting.