Our Cat of the Week is Curley!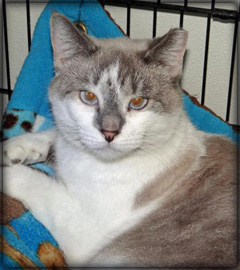 Curley the Brave! That's my nickname. I'm the leader of our small pack of kitties at the shelter. We were part of a hoarder's house in northern Indiana, with over 100 cats, and the HSUS rescued me and my siblings and got us to the Brown County Humane Society where we're learning to trust people.
I love exploring and sitting in the sun. I'd really like a quiet household where I can do these things and be loved for it.
I am a curious guy, so I know if someone has the patience, I think we will become best friends. I trust slowly, but if you'll wait for me, you will get so much love in return.
Come to the shelter and meet me. I think we could become best friends.