Our Cat of the Week is Chiffon!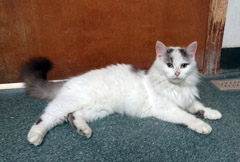 Chiffon is a little lady who loves to play, show everyone her belly for petting and will sit beside you and help at the computer.
She'll make the greatest friend. You'll be wondering what you've been waiting for.
And her secret passion: anything with catnip! She will play with catnip toys all day long.