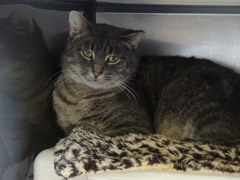 Our Cat of the Week is Mouse
As quiet as a…Mouse. That's how I got my name. I'm a super-shy boy who is looking for a patient family.
I'm really lovable, but I'm so shy that it's difficult for me to show you until I know you better.
I get along fine with other cats, so I can join any family. I just need someone to take the time and let me come around at my own pace. I am super-loyal, so if you give me a chance, I know I'll be the best friend you've ever had. Will you take that chance on me?