Our Cat of the Week is Big John!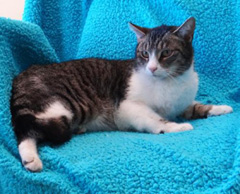 Big John Coming Your Way! I'm a big boy but I'm actually very quiet. I love sitting and watching everything that is going on around me.
I really enjoy having other cats around (of all ages) and I like when people want to stop to talk or pet me. I think that would be a wonderful way to spend the rest of my life too. So maybe I can be adopted by a loving person who will treat me as part of the family. That thought makes me purr!