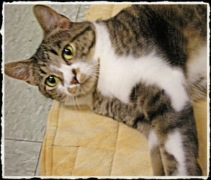 Our Cat of the Week is Beauty!
Her name says it all! 
She's a petite kitty with a lovely, delicate face. 
When she first came to the shelter, she was very shy, but with lots of love she's started to really enjoy the attention and is one of the first to "speak up" each morning.  
Beauty has a playful streak that's showing more and more each day.  If you have a little bit of patience to help her continue to come out of her shell, she'll will grow into an even more delightful kitty. 
She gets along well with other cats, but might do best in a home with no young children.