Our Cat of the Week is Wilson!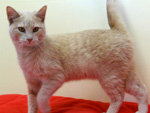 Wonderful Wilson here! I am an affectionate, gentle guy who loves to dance when I am happy. I get a little spooked by new things, but I quickly recover and relax again. I really love to cuddle and show you how loud my purr is.I need someone who loves life as much as I do. Maybe we can even dance together? I am about 1 year old, and I'm a super-handsome buff Tabby. My favorite thing is when you tell me it's time to be picked up for a hug. If you hold your arms out, I know what it means and I get so excited. It's Wilson time!
Check out my video to see my happy feet!