Our Dog of the Week is…Buffy!!
My name is Buffy and I love to play fetch–whether it's a ball or even a stick!
I am a social girl who adores people and am looking forward to a family who likes active games and long walks!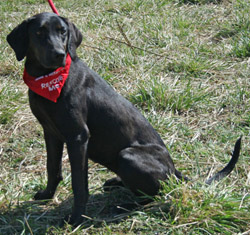 I am hoping to find a home with room to roam too! I am still young and do jump up at times, so will need some obedience training, but I'm a smart and agreeable gal who will try hard to please. I might knock down small children, so it would be best if I was in a loving home with older children or just adults until I learned not to jump.
I know that once we meet, we will become great friends!
Watch my video and see how fast I learn.