Our Dog of the Week is Beth!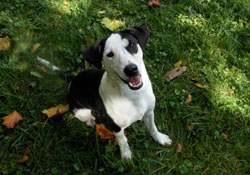 Beth is a young pointer mix. Her personality is very comical and fun to be around.
Her demeanor is gentle and laid-back. She gets along well with other dogs. Her previous owner didn't spend much time with her so here at the shelter she revels in having people to pay attention to her.
Her previous owner said she sometimes chase cats, although she has never hurt one. She is very smart and learns proper behavior quickly. She's very eager to please.
She would make a great family companion. Check out her video and you will see…