Our Dog of the Week is Cooper!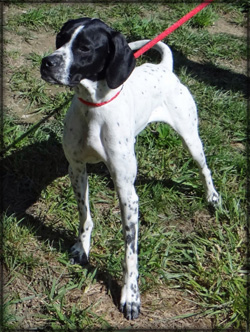 Meet Cooper, our resident English Pointer and athlete extraordinaire.
His breed is known to be protective, alert and very loyal. He combines the best attributes of both sporting dog and household companion.
Gentle and playful with children, he is trainable, intelligent and clean.
Cooper is an incredible athlete and would be proficient in the field pointing, flushing and retrieving.
He has been field tested with a staff member that hunts and he is NOT gun shy.
Cooper would also be very happy to accompany you if you're a jogger or powerwalker.