Our Dog of the Week is Okie!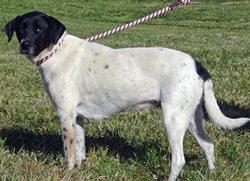 Sweet Okie! I'm a very gentle gal that loves everyone. I get along great with other dogs as well as cats.
I'm one of the calmest girls you'll meet. I'm super-smart too, learning tricks quickly. I love hanging around people, making me the best and most loyal companion you will ever find. I have beautiful coloring–everyone says so.
My dream is to have a loving family and a forever home. Will you make that dream come true?
I'm currently in foster care, so just call ahead and I can come to the shelter super-fast to meet you.